The tiara worn by Princess Irene on her
wedding day, was a wedding gift from her
husband Carlos-Hugo de Bourbon-Parme. It
had belonged to his mother Infanta Maria
Antonia of Portugal, and was beautifully
made out of gold, and had many brilliants
adorning it. The tiara is dubbed "the grand
tiara" of the Bourbon-Parma family. This
tiara consists if large middle portion of
brilliants. 5 swirly motif, with central
brilliants. Smaller brilliants also accompany
them. The center being slightly larger than
the others. The top portion of the grand
diandem consists of 17 upright small
brilliants, and 12 medium brilliants in-between.
The top of the tiara is adorned with 3 larger
brilliants.


The Princess' chiffon veil was about as
long as her flowing train.




Irene wore a beautiful pair of long pearl
earrings, probably belonging to her mother
or to another member of the dutch royal family.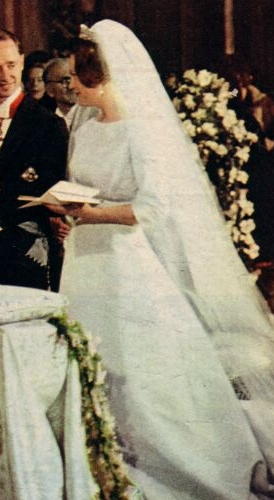 HRH Princess Irene of wore a dress designed
and made by Balmain. The laces of Bruges on
the dress were sent by the Princess' mother
Queen Juliana. The dress consisted of 3 ¼ length
sleeves, bell shaped skirt. It looks as though
the princess had a long train that had been join
on the dress at the waist. The dress was made of
white silk organza I believe. The dress consisted
of a small bodice. With Princess type waist line.