The new queen of the Belgians chose to wear
the diandem of the Belgian Kingdom. This beautiful
diamond tiara, was given to HRH Crown Princess
Astrid when she married Crown Prince Leopold. It
has a thick diamond base with a cross-hatch diamond
design adorning the top.

The queen wore no necklace, or bracelets. The only
jewelry other than her diandem was a beautiful pair
of pearl studded earrings.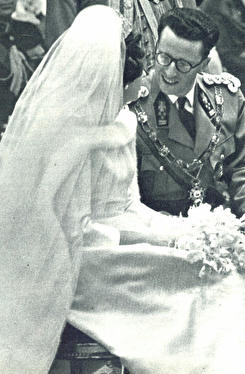 The regal bridal gown was perfect for a December/winter
wedding. Queen Fabiola's wedding gown was designed by
Cristobal Balenciaga. Made of white silk and ermine,
the dress consisted of a high neckline, with long sleeves
to the wrist. The skirt of the dress was bell shaped with
a train attached at the waist. Ermine was chosen to decorate
and emphasize the neckline, bodice, end of skirt, wrists
of the sleeves. The train was also lined with ermine.

To accompany her dress, the new queen wore a pair
of gloves, that ended just before the elbow.