Princess Alexia wears a Cartier white
gold and diamond tiara , and a pair of
diamond pendant earrings. The tiara
and the veil, with its designs of small
bows, lilies and lilies-of-the-valley,
were wedding presents to her great-
grandmother, Princess Margaret of
Connaught from the Khedive of Egypt
and Irish lacemakers, respectively.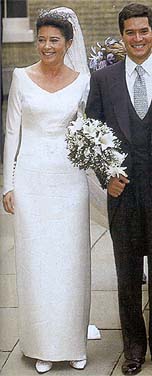 The wedding dress of heavy off-white
satin was designed by Inge Sprawson.
It is elegantly cut with a V neckline
and long, tight-fitting sleeves with
beaded and embroidered buttons
at the wrists.


In addition to white lilies, lilies-of-the-
valley and myrtle taken from a plant
started by Queen Ingrid, the bouquet
also had olive leaves flown in from
Tatoi, the royal family's former home.

Three tiny wreaths were included in the
bouquet. After the wedding a wreath
was placed at the graves of King
Frederik IX of Denmark at Roskilde,
of King Paul and Queen Frederika of
Greece at Tatoi, and of the groom's
maternal grandparents on the Canary
Island of Lanzarote.