When Astrid Khol married Prince
Nicholas of Liechtenstein, she
did not wear a tiara, she wore a
large, white, non-brimmed
woman's top hat. The hat was
accented with thick, ruffed, net
like material. The bridal veil,
extended above the hat in puff,
down over and across her face,
and continued down the back
against the shoulders to the ground.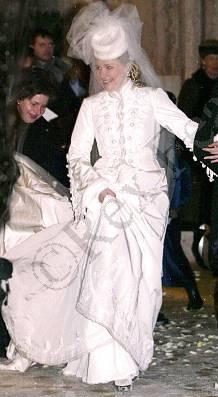 The bridal ensemble was made of
white heavy material, good for
cold and snowy days. A beautiful
choice for a winter wedding. The
dress resembled a winter coat, with
long sleeves, a high neckline, and a
full length skirt with a small train.
The sleeves of the ensemble were
wrist length, and opened at the ends.
Slightly bell shaped, they had
fabric balls dangling from the bottom
of both sleeves, several of them starting
at the elbow.

The neckline of the dress is high on
the neck and with a button to keep
it from opening. The dress also features
several buttons down the front. The front
of the dress had three rows of buttons
the first down the center, several large
buttons, the same color as the dress down
to the front waist line. The two other sets
are to the left and to the right of the dress
down the front. Larger buttons, they start
at the shoulders and extend also to the
waist line of the dress.

The waist line is fitted, and it extends to a
full, flowing skirt. The skirt is bell shaped,
with a small train. The train is beautifully
detailed with large panels of lace. A large
bow sits at the center of the train on the
back of the dress.