Princess Josephine-Charlotte of
Belgium wore two different tiara's
on her wedding day. Both can be
seen in official portraits. One
is a diamond tiara given to her
as a gift from the bankers of
Brussels, the second is a diamond
necklace that can be made into a
tiara, that was a gift from the
African Belgian Congo. It looks as
though Josephine-Charlotte wore a
pearl necklace also.


The bridal veil was made out of
Tulle, and was long. It was made
the same length of the Princess' train.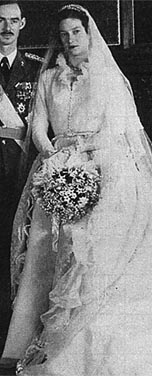 The dress was made of silk and lace.
The neckline for the dress was ruffled.
The front of the dress featured several
buttons, as did the ends of the full
length sleeves. The dress was tighter
in the waist area, but came into a full
length fabric filled skirt. It looks as
though Josephine-Charlotte's skirt was
made from two materials. One being the
same tulle from the bridal veil and the
second of course being the same material
as the dress itself. The skirt also seems
to have had ruffles along the sides of it.


The train was most defanitly of more
than one material or fabric. It looks
as though it were made of the same
fabric the dress was made from. Also
along with a crepe fabric to form the
many ruffles on the train. The third
being an unknown fabric/material. All
of them helped form the thick, and
beautiful train. The train had several
ruffled along the sides and around the
oval shaped train too. The train was
attached at the shoulders.