Princess Margaretha wore a beautiful
diamond necklace. This necklace was a
wedding gift to her mother when she
married in 1954. It came from the people
of the African Belgian Congo. It was worn
by Josephine-Charlotte in one of two
photos to mark the royal occasion.


The bridal veil looks like it was made
out of tulle, and is about as long as
the brides train, if not possibly longer.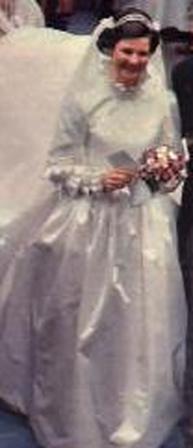 The dress was made of what looks
to be satin and tulle/crepe material.
The dress has a ruffled neckline, and
ruffled sleeves, which are made to be
wrist length. The neckline is high on
the neck and supports a double ruffle.
The sleeves each have about three or
four ruffles on them that are tied at
the ends of the wrists. The bodice area
of the dress is nicely fitted to the waist.
The skirt of the dress is attached with
pleats throughout the skirt. It flares
nicely from the waist. The skirt is full
length, and is longer in the back then
the front.


The train of the dress is attached at
the waist. It is about 2-3 meters long,
and the veil of the dress is about just
as long.


The bridal bouquet is made of white roses
and white/red flowers and also consists
of lots of greens.