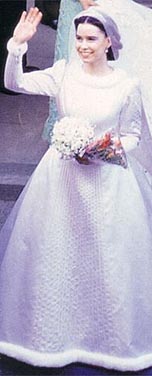 blah blah blah blah blah blah blah
The Cuban born Maria Teresa wore a
beautiful dress of white hatched
(criss-cross) fabric. The dress had
a close fitted neckline that was
lined in ermine. The wrist length
sleeves were also lined with ermine
at the ends. The dress had a tightly
fitted waist/bodice area. The full
length bell shaped skirt and the beaut-
ifully long train were among the rest
of the dress lined with ermine. The
train was of unknown measurements. The
train seems to be attached at the
shoulders, rather than the waist.