Princess Martha wore a tiara
originally belonging to Queen
Maud. The beautiful tiara was
given to the Princess Maud as
a wedding gift from her parents,
the future King Edward VII and
Queen Alexandra of Great Britain.
The tiara can be worn in two different
styles, the second, being mainly of the base
of the tiara, with upright pearls, was chosen.



The bridal veil attached and held in
place by Queen Maud's tiara was made
of silk chiffon and was shaped at the end
with the same gothic edge of the train and
sleeves on the over coat.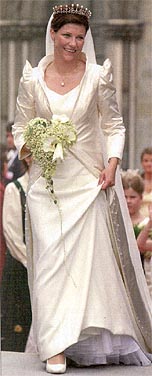 Princess Märtha Louise's wedding dress
was designed by Wenche Lyche. The bride's
costume is in two pieces. The jacket has been
made by the designer, while the dress itself has
been sewn by Anna Bratland. The costume is
inspired by the shape and color of the Märtha
lily combined with the gothic arches of Nidaros
Cathedral. The letters M and A are woven into
the design and reflect the shape of the arches and
lilies. The bride's jacket is in off-white duchesse satin.
A vine, the symbol of "the thread of life", was
embroidered around the ends of the train. The
cut is similar to that of a tailcoat, with gothic sleeves.

The embroidered sleeves are trumpet-shaped and
inspired by The Queen's own wedding dress. The
train is 3 meters long and ends in a pointed gothic
arch. A circle of five lilies, 5 is the sacred number
for a wedding, two for the woman and three for the
man, which is woven with embroidery at the ends
of the train. The jacket is held together at the front
with a jewel in the shape of the letter A made of
cultured pearls, 18-carat gold and 16 brilliants.
In the cathedral the jewel was worn on the jacket
and later in the evening as a brooch on the wedding
dress. The jacket was embroidered with Swarovski
crystals. The wedding dress is made of silk crepe
with simple, modern lines and a gothic V at the
front and back. The dress underneath the over co
at was sleeveless.

Princess Märtha Louise's bridal bouquet consisted
mainly of lilies-of-the-valley, orchids and Märtha
lilies. The colors were white and cream, and the
bouquet has been made by Barbro Kirknes of
Wallden & Moum AS in Trondheim. The bouquet
has a narrow, elegant heart shape, with a waterfall
of sweet-scented lilies-of-the-valley contrasting
with the clean lines of the Märtha lilies.
Phalaenopsis orchids have been used to create a
harmonious whole. Ceropegia has been used
together with the lilies-of-the-valley in the
waterfall, and its heart-shaped green leaves
form an attractive contrast to the white of the
flowers. The same precious stones that were
used to decorate the wedding dress also appear
in the bouquet.