A gift from Their Majesties the King
and Queen, the brides tiara is antique
and was probably made about 1910. It
consists of diamonds, platinum and white
gold. The 23 diamonds in the Crown Princessí
tiara are both brilliants and rosettes,
that make up 23 daisies set in platinum
and yellow gold.

Matte-Maritís bridal veil was made
of silk tulle and was six meters long.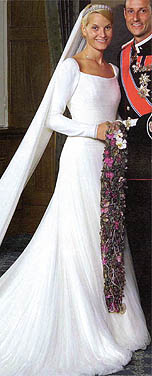 The beautiful flowing gown was made of
thick silk crepe and soft silke tulle.
Rather than the traditional white, the new
Crown Princess chose to have the gown dyed
ecru. The dress was designed by Ove Harder
Finseth and seamstress Anna Bratland. The
bride was also included in say for the design
of her dress. The dress made of 125 meters
of silk tulle, was inspired by the dresses
of HM Queen Maud. The gown consisted of a
bodice, and a flared skirt. The train was
beautiful edged with decorated tulle, that
resembles waves of sand. The train attached
at the waist and was two meters long. The
dress had sleeves that met the wrists, and
were decorated with three buttons on each.
The neckline of the bridal gown is a square
shaped.

Aina Nyberget Kleppe, made the beautiful
colorful bridal bouquet. From the Princessí
idea of a muff like bouquet. The bouquet
consisted of Wanda orchids, hydrangeas,
roses in pink and mauve tones.The colors
are various soft tones of pink.