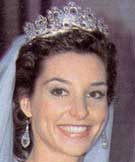 Barbara Cano wore a diamond and
sapphire tiara that belonged to her
mother-in-law, the Infanta Pilar. It
has been worn by the Infanta
Margarita, so it's not exactly sure
which of the two sisters owns it.
The tiara's exact history is
undetermined. The bride wore earrings
to match her tiara.
The bridal veil was embroidered
around the edges with lace.

The wedding dress was created by Pedro Valverde
from 48 meters of silk organza and had a skirt
arranged in five layers instead of petticoats.
The Infanta wore three quarter inch sleeves with
embroidered ends.


Sen. Cano wore a beautiful sleeve-less white
ivory silk gown, topped with intricate lace
embroidery. Although the dress had a low V
shaped neckline and no sleeves, the dress
had sleeves made of Lace, which was made to
be wrist length. With what looks to be a
design of flowers and possibly vines.
The dress witch had no bodice featured a
full bell shaped skirt which flared slightly
from the waist area, with a train of about 3
meters.

It looks as though her bouquet was that of
lily of the valley with lots of green.