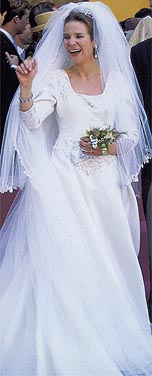 The wedding dress was created by Pedro Valverde
from 48 meters of silk organza and had a skirt
arranged in five layers instead of petticoats.
The Infanta wore three quarter inch sleeves with
embroidered ends.


The final embroidery was limited to the neck
and waistline only, with a matching trim
around the edge of the veil. All embroidery
was done by hand, using only natural or satin
silk thread.

The bouquet contained white orchids, light pink
waxflowers, After the ceremony it was left
by the Infanta Elena, at her grandparents
burial place in the Royal Monistary at Escoril.
She then took a smaller bouquet of flowers out
the church for the rest of the festivities.