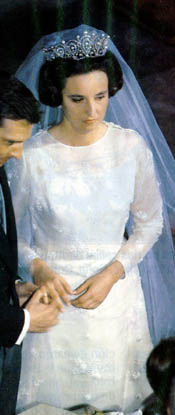 The Infanta wore a
Beautiful white dress
Made of silk and lace.
The dress looks as though
It were made in two different
Parts.


The bottom being a silk
dress with small shoulder
straps. The dress was ankle
length. It was lower on the
neck, and it had no sleeves.
The top portion of the
ensemble, was made of lace
and embroidered with flowers.
It was higher on the neck
and had long sleeves. The
sleeves were wrist length
and were slightly loose
at the ends, but not too
much to slide. It too
was ankle length.


The waist of the ensemble
was fitted, and the skirt
slightly flared from the
waist line.