Lady Helen Windsor wore a diamond
fringe tiara which consists of a
bandeau base, topped by pearl-tipped
fringes. This tiara was a wedding gift
from her mothers parents. A wedding
gift from her parents.
The veil was made of tulle, and was
about the same length as the train.
She wore pearl earrings, and a
beautiful pearl necklace.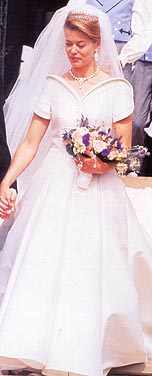 Lady Helen wore a white dress made
of most likely silk. It had short
sleeves, with thick collar around them.
The dress had a beautiful low V-shaped
neckline. With the ends of the neckline
curved over. The dress was fitted well
in the waist area. There was no bodice
on the dress. The skirt was full length,
with a nice bell shape. The skirt
was pleated.

The train of the dress was attached
at the waist, and was of unknown
measurements.
Helenís bouquet was made of white
roses, purple violets, what looks
to be Queen Anneís lace, and lily
of the valley. The bouquet had pink,
purple, white yellow, and lavender
colors. It also consisted of greens.